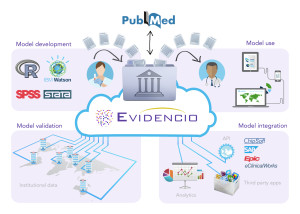 | | |
| --- | --- |
| | The world's first open library for medical prediction models. |
| | Create, Update, Share online prediction models. |
| | Validate prediction models directly using your own institutional data. |
| | Find models based on Title, Keyword, Author, Institute, or MeSH classification. |
| | Use patient-tailored prediction models for medical decision support on any device. |
| | Get feedback from peers within the Evidencio Community. |
| | Connect prediction models to EHR's and 3rd party Apps through our API. |
| | Publish models with your research paper for an improved review process & impact. |
| | Evidencio is and will remain free for health-care professionals and research institutes. |
It is our mission to support the transition of prediction models from research into medical practice. We're working towards improving the transparency and quality of the prediction models used in medical practice today.
The Evidencio platform hosts a dynamic, and transparent library filled with clinically relevant medical prediction models. These models are created, validated and used by researchers and medical professionals all over the world.
Join the Evidencio community, so you can create your own models, validate existing models with your own data, share your models with colleagues & reviewers, provide feedback to model authors, ...
Calculations alone should never dictate patient care, and are no substitute for professional judgement. See our full
disclaimer
.